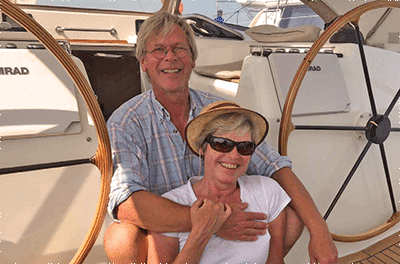 From the newsletter..
TEAK LIFE HELPS HOLLAND COUPLE ENJOY LIFE ON MARTIN 60-FOOTER
Racing and recreational sailing are a way of life for Jet and Bjørn, a couple from Holland who have spent more than four decades together enjoying water sports. While sailing in the North Sea Regatta in Scheveningen 24 years ago, they spotted a huge white yacht that captured their attention. It turned out to be a 1996 Martin Marine 60-footer – the latest acquisition of German industrialist and yachtsman Wilhelm "Willi" Illbruck. The timeless boat, named Pinta Smeralda and designed by Judel Vrolijk, was built as a cruiser with a Volvo ocean hull and carbon construction. The couple never imagined they could afford such a ship, but they couldn't get it out of their minds. Twelve years later they found out the Pinta Smeralda was for sale, and they jumped at the chance to purchase it.