From the newsletter..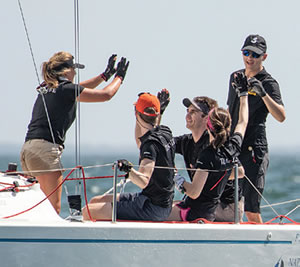 Sansin Helps Sailing Team Reach New Heights
Sansin is proud to have been the 2019/2020 sponsor of The Dalhousie Sailing Team, a Tier 1 club at Dalhousie University, based in Halifax, Canada. The Dalhousie Sailing Team comprises four teams, including a Keel Boat and Dinghy team, with 35 sailors who practice for the chance to attend Regattas throughout the year, compete against other university teams and advance their professional sailing skills.
With Sansin's sponsorship, the team was able to attend more regattas throughout the year and send more sailors to each competition. The year's season ended with a big event in Florida, called the Mid-Winters Keel Boat Regatta, hosted by the Canadian Intercollegiate Sailing Association. Sansin congratulates the Dalhousie team for placing 2nd overall in this competitive race.
According to Mauraine Bos, the VP of Dalhousie Sailing Team, "As many know, sailing is not an inexpensive sport, so we are very grateful for the opportunities this sponsorship affords us."